INVESTMENT MARATHON #8 • September 2022
The building blocks of Aspira Wealth's long-term investment strategy.
Newsletter by Alex Vozian, CFA, Co-Founder and Associate Portfolio Manager.
Subscribe to our newsletters with one click!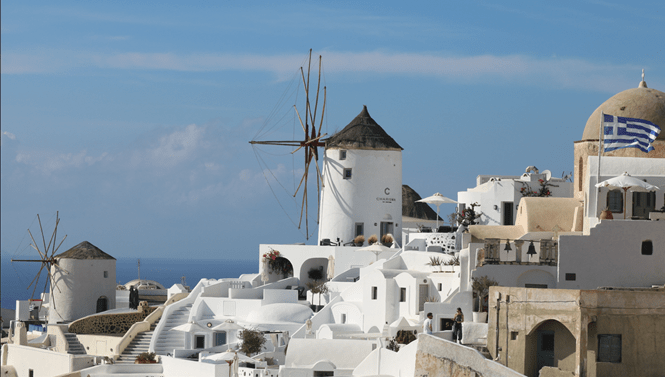 The windmills of Oia, Santorini, August 2022.
SUMMARY
Creative and adaptive
Canadian and U.S. markets update
The investment opportunity is still strong
Mueller Industries (MLI) – one of our holdings
In plain white!
CREATIVE and ADAPTIVE
While exploring the Greek island of Santorini in August 2022, I once again realized how creative and adaptive humans are.
Here is a bit of history. Minoan civilization – the first advanced civilization in Europe – inhabited Crete and other islands, including Santorini. Pipes with running water (including cold and warm!), drainage and water closets discovered on Santorini are the oldest such utilities discovered.
About 4,000 years ago, one of the largest volcanic eruptions in human history took place in Santorini – leading to mega-tsunamis, fatalities and mass evacuation. The eruption also appears to have ended the once prosperous Minoan civilization and caused a volcanic winter as far away as China.
Fast forward to the late 19th – early 20th century – the island was flourishing as a result of seaborne trade throughout the Mediterranean, particularly as part of the trade route between Russia and Alexandria. The arrival of steam and the concentration of shipping on Greek mainland, however, caused the island seagoing trade to collapse. Agriculture also diminished as increasing emigration took place. An earthquake in 1956 destroyed 85 per cent of the island structures, causing major economic and social damage for Santorini.
Few decades later, Santorini flourished again. Increasing focus on the tourism industry in the 1970s, reconstruction of the island, along with its rich history and natural beauty, eventually made Santorini among the world's 30 best places to visit.
This reminder about people's creativity and adaptability gives me confidence that people will find a way to solve, or to adapt to, any challenge we are facing.
CANADIAN AND U.S. MARKETS UPDATE (2022-09-15)
The Canadian stock market is down five per cent, and the U.S. market is down 16 per cent since the start of 2022, after witnessing massive gains in 2021.
Key worries driving this decline are similar to those included in our last update:
High inflation caused by:

Insufficient supply of goods due to disruptions caused by the pandemic and Russian invasion of Ukraine
Excess demand for goods due to stimulus pumped into the economy after the start of the Covid pandemic, coupled with a shift of consumer spending patterns

Central banks raising interest rates to contain inflation
Fears that higher interest rates might cause a global recession
Increasing fears that a worsening energy crisis will lead to severe recessions in Europe
Since the start of 2022, most of our in-house investment strategies continue to do better than the overall market. Our significant exposure to companies thriving in (or at least immune to) inflationary environments is definitely helping our portfolios.
While these results are relatively great, we place no weight on short-term results, good or bad, and neither should you. In fact, we occasionally make decisions that negatively impact short-term performance if we think we can improve our long-term returns and/or lower risk level.
the INVESTMENT opportunity IS STILL STRONG
While nobody can guarantee where market prices will go during late 2022, we are optimistic about the medium- and long-term investment outlook.
The market and consumer sentiments are not far from record low (i.e., extremely fearful) levels – remember Warren Buffett's quote "Be fearful when others are greedy, and greedy when others are fearful."
There are more signs that inflation is slowing down – that might cause central banks to increase interest rates by a smaller amount than the market is currently expecting.
Even if we end up with a recession in North America – the stock market might have already priced that in. Remember that the stock market is a leading indicator, so it usually starts recovering several months/quarters before the official end of the recession.
As mentioned in the first section of this newsletter, people (and businesses) are very good at adapting to external challenges. We do our best to invest in the most adaptive and sustainable companies.
A HOLDING WE OWN – Mueller Industries (MLI)
Mueller Industries (MLI) – you may have noticed MLI in your DVD Equities portfolio – is an example of a company thriving in the current inflationary environment.
MLI is a $4 billion revenue company manufacturing goods for markets such as air, water, oil and gas distribution as well as climate comfort, food preservation, energy transmission, medical, aerospace and automotive. It includes a network of companies and brands throughout North America (U.S. 75 per cent of revenues, Canada 12 per cent), Europe, Asia and the Middle East. The large 89 per cent exposure to North America is very welcome now – given significant business uncertainty in Europe and Asia.
Our team discovered MLI in May 2021 and made our first purchase next month. Since then, MLI went up 38 per cent, while the U.S. market declined eight per cent.
MLI is our top third highest-rated holding based on our proprietary quality score:
Great management. We like their: long tenure and large stake-in-the game, executive compensation plan, which is driven by the right things (ROIC one of them), disciplined acquisitions (an industry aggregator), timely share buybacks (often near annual record low levels), decentralized operational management, strong balance sheet and financial discipline (was profitable during recessions of 2001, 2009 and 2020), strong training program, etc.
Solid competitive advantage from multiple sources: strong focus on client relationships (large focus on one-on-one interactions), strong bargaining power on consumer side – was able to pass massive inflation of costs to consumers in 2021. The economic moat is confirmed by high and expanding margins as well as return on invested capital.
Solid industry tailwinds. MLI has exposure to different industries. Residential and commercial construction industries are facing temporary headwinds from increasing interest rates and recessionary fears, however, we see long-term outlook as very favourable – driven by underinvestment in residential construction since the Great Recession as well as re-shoring of multiple industries due to geopolitical shifts. Increasing focus on energy efficiency and challenges in water infrastructure space are also helping MLI. On top of this, MLI has significant room to grow due to its own relatively small size.
Environmental, social and governance (ESG). MLI's ESG score is below average due to the industry specifics. It just does take more energy and water to process metals, compared to other industries. We like MLI's efforts to increase occupational health and safety and to continuously reduce consumption of raw materials as well as to offer energy-saving products to their clients.
Dividend. MLI dividend increased by 92 per cent in 2022 … and this is on top of a 30 per cent increase from 2021!
IN PLAIN WHITE
Now, back to our discussion about Santorini and the global energy crisis.
The white buildings and blue domes are a trademark of Santorini. I realized quickly that white buildings are not just aesthetically pleasing. They are painted in plain white due to a confluence of factors:
Disease control: At the beginning of the 20th century, serious diseases plagued many parts of the world, including Greece. In 1938, the entire Greek nation was mandated to paint their homes with whitewash (cheap paint with disinfectant properties) in hopes to control the spread of cholera.
Energy efficiency: White colour prevents the houses from getting warm – this is particularly important in hot Mediterranean summers. There are many ways to reduce energy consumption. One of them is in plain sight – the colour of our buildings.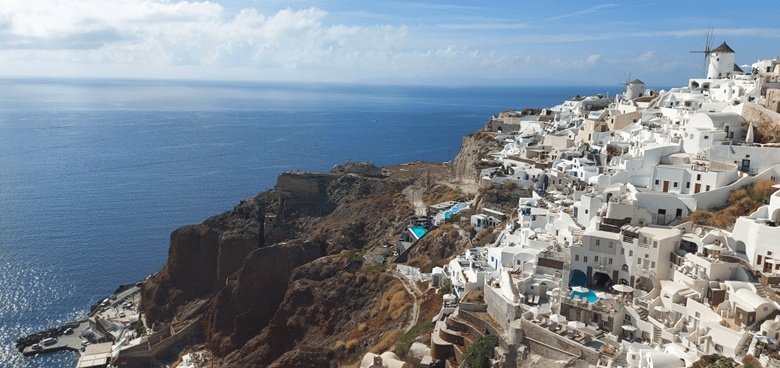 Oia - a small village on the islands of Thira (Santorini), Greece, August 2022
Thank You for reading my newsletter
Subscribe to our newsletters with one click.
Our previous publications are available here https://www.aspirawealth.com/insights.
REACH OUT
It is our mission to help our clients live out their greatest aspirations!
Feel free to reach out to discuss what is on your mind and the puzzles you are trying to solve.
Learn more about us on our team's page and from the founders' video.
The information contained in this report was obtained from sources believed to be reliable, however, we cannot represent that it is accurate or complete and it should not be considered personal tax advice. This report is provided as a general source of information and should not be considered personal investment advice or solicitation to buy or sell securities. The views expressed are those of the author and not necessarily those of Raymond James. We are not tax advisors and we recommend that clients seek independent advice from a professional advisor on tax-related matters. This provides links to other Internet sites for the convenience of users. Raymond James Ltd. is not responsible for the availability or content of these external sites, nor does Raymond James Ltd endorse, warrant or guarantee the products, services or information described or offered at these other Internet sites. Users cannot assume that the external sites will abide by the same Privacy Policy which Raymond James Ltd adheres to. Raymond James Ltd., Member—Canadian Investor Protection Fund. Raymond James (USA) Ltd. (RJLU) advisors may only conduct business with residents of the states and/or jurisdictions for which they are properly registered. Raymond James (USA) Ltd. is a member of FINRA/SIPC.