INVESTMENT MARATHON - August 2021 - by Alex Vozian, CFA.
A short monthly newsletter where we share the building blocks of our long-term investment strategy.
If somebody forwarded you this email, you can subscribe here.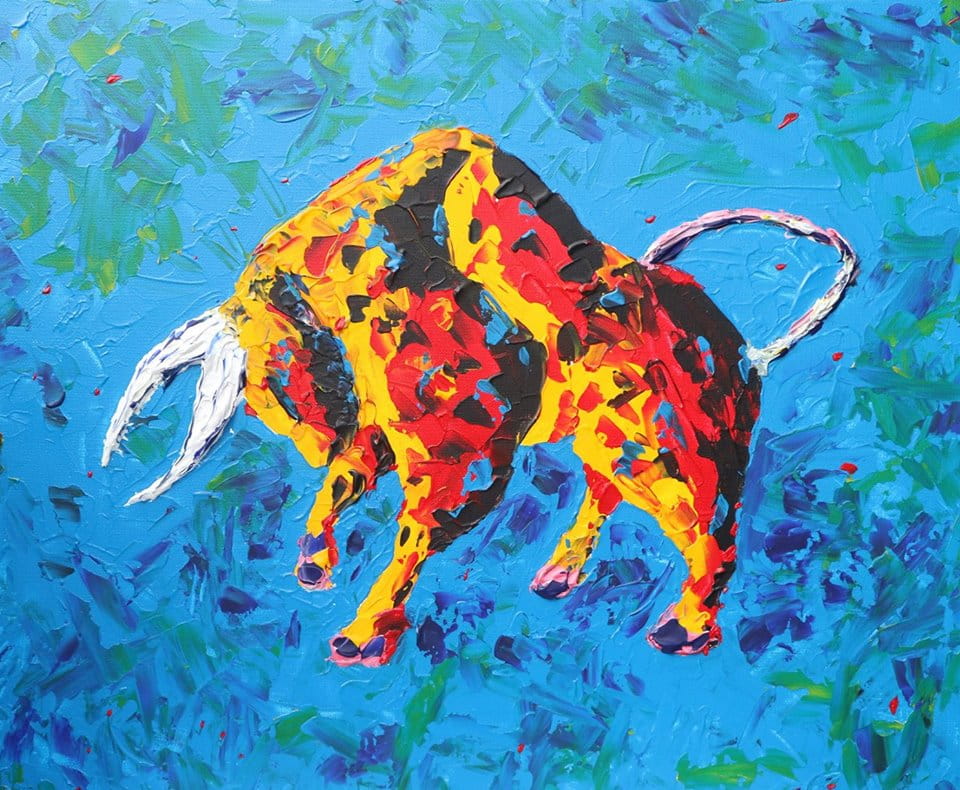 "Bull #3" - painting by Alex from 2015.
2021 MARKET UPDATE: Canada +20%, U.S. +22%
The Canadian stock market is up 20% in 2021 and the US is up 22%, after they advanced 2% and 3% respectively, in August 2021. While these numbers seem larger than investors are used to, the gains seem reasonable thanks to massive revisions up in expected revenues and earnings for 2021-2023, helped by supportive monetary & fiscal policy and progress on the vaccination front. The stock market rally In Canada was driven by spectacular growth of the energy (XEG.TO), financial (XFN.TO), technology (XIT.TO), and industrial (ZIN.TO) sectors - all up 25-36% during the first eight months of 2021. In the United States, all sectors advanced 15-33%, except for the staples (XLP) and utilities (XLU) sectors, which gained 8-11%.
Our core strategy – The Dividend Value DisciplineTM - continues to participate in this market rally. Twelve holdings gained over 30% since the start of 2021 - Tourmaline Oil (TOU.TO), NVIDIA (NVDA), Williams-Sonoma (WSM), CDW (CDW), Intuit (INTU), Tractor Supply (TSCO), Microsoft (MSFT), ARC Resources (ARX.TO), iShares S&P/TSX Capped Energy Index ETF (XEG.TO), Constellation Software (CSU.TO), Accenture Plc (ACN) and KLA Corporation (KLAC). The rest performed closer to, or below, the market average.
A HOLDING WE OWN
Constellation Software (CSU.TO) – which we first bought 5 years ago – is a Canadian company that acquires, manages and builds industry-specific software businesses which provide specialized, mission-critical software solutions.
CSU.TO ranks very high in our proprietary checklists for competitive moat, economic tailwinds and investment edge, while it shines the most in the management category (2nd highest score from 100+ companies we have studied) --- highly decentralized management, strong alignment of management incentives, and best-in-class candour and self-effacing leadership. Speaking about the latter, here's a fun fact - it took us 3+ years to find the first photo of the founder and president of CSU.TO CEO - Mark Leonard!
A BOOK WE'VE READ
Principles – by Ray Dalio, "one of the world's most successful investors and entrepreneurs, shares the unconventional principles that helped him create unique results in life and business - and which any person or organization can adopt to better achieve their goals."
The book is beautifully written and includes a lot of wisdom, applicable both in investments and to life in general. Our favorite quotes from the book are – "Pain + Reflection = Progress" and "Above all else, I want you to think for yourself, to decide 1) what you want, 2) what is true and 3) what to do about it."
A WAY WE HELP
We help you work towards your long-term financial goals in a sustainable / responsible manner. ESG score (environmental, social and governance) is one of the 6 factors driving our investment decisions.
Interest in sustainable investing has increased almost threefold from 2012 to 2018, and we expect ESG to accelerate in importance going forward, driven by developments in 2020 (COVID-19 health and social crisis) and 2021 (United Nation's Intergovernmental Panel on Climate Change report).
Read more about our ESG process in our The Strategist Publication from Nov 2019.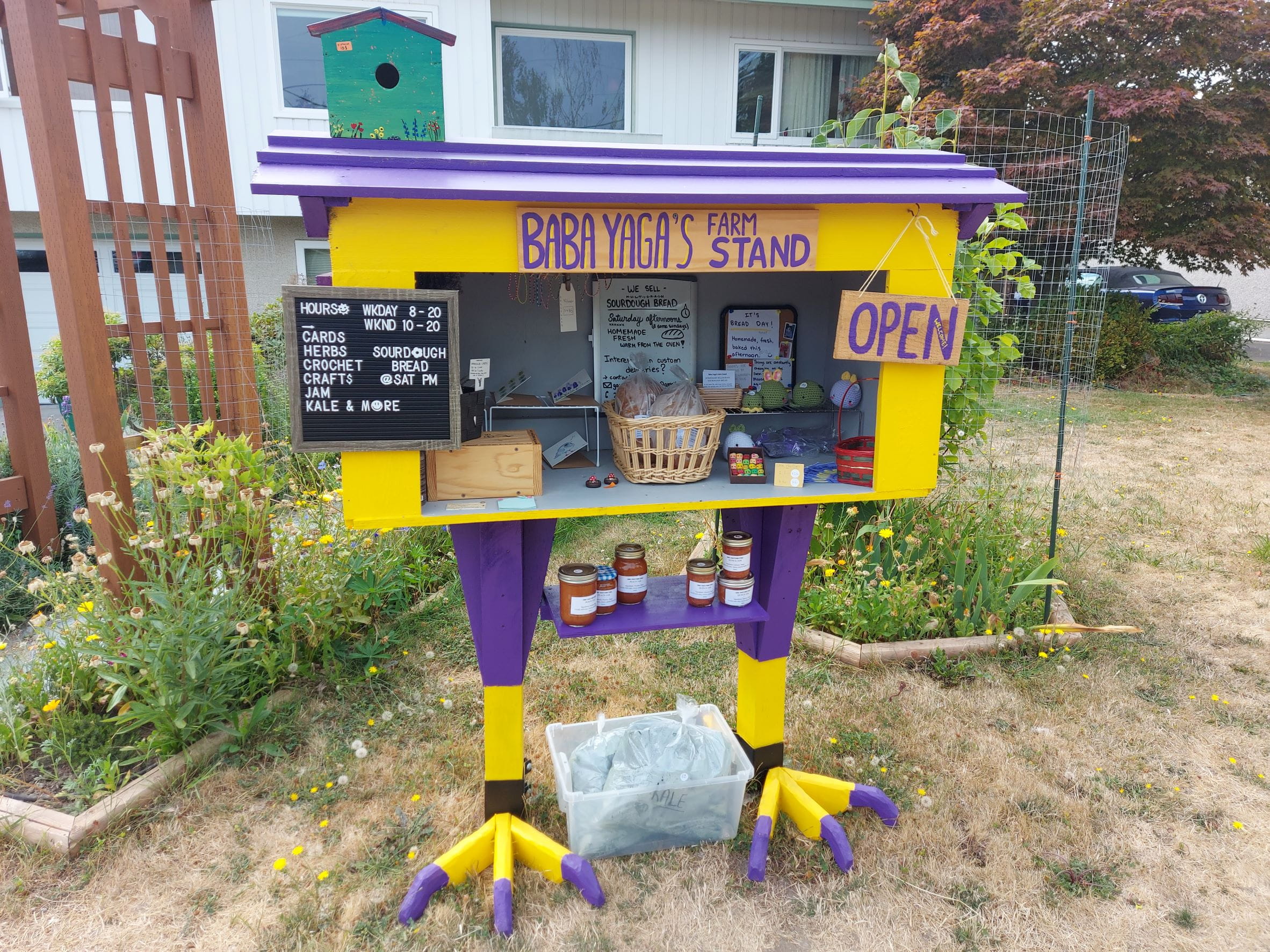 A MOMENT TO ENJOY
It pays great dividends to invest in yourself, or in family or in community, or.... in all three at once.
I want to share a recent experience which our family enjoyed a lot. The original intention was to connect a few unrelated pieces – our kids' passion for art & crafts and my wife's dream of opening a bakery.
The surprising solution proved to be launching a "Baba Yaga" farm stand operation in our front yard. As a result:
Our kids stayed busy during their "restricted" summer break while gaining their first experience in business, marketing, and mass production of beautiful artwork.
My wife has been able to test her "let's start a bakery!" dream on a small scale.
Our family has deepened our connection with the local community, and we plan to donate a portion of the sales proceeds to a few Canadian youth/children charities.
THANK YOU
Thank you for reading this letter and sharing it with friends who might enjoy reading it too!
Alex Vozian, CFA.
Alex joined Chris Raper & Associates in 2013 where he leads the investment research side of the business. Born and raised in the "Kingdom of World's Largest Wine Cellars" (Moldova), he was lucky to start a career in the North American stock market back in 2003 – a field which encompasses several areas of his interests - psychology, mathematics, economics, and computer science.
Alex has a Chartered Financial Analyst designation, has completed multiple Canadian securities courses, as well as a few modern applied psychology courses. Full bio is available here.