INVESTMENT MARATHON #12 • June 2023
The building blocks of Aspira Wealth's long-term investment strategy.
Newsletter by Alex Vozian, CFA, Co-Founder and Associate Portfolio Manager
Subscribe to our newsletters here.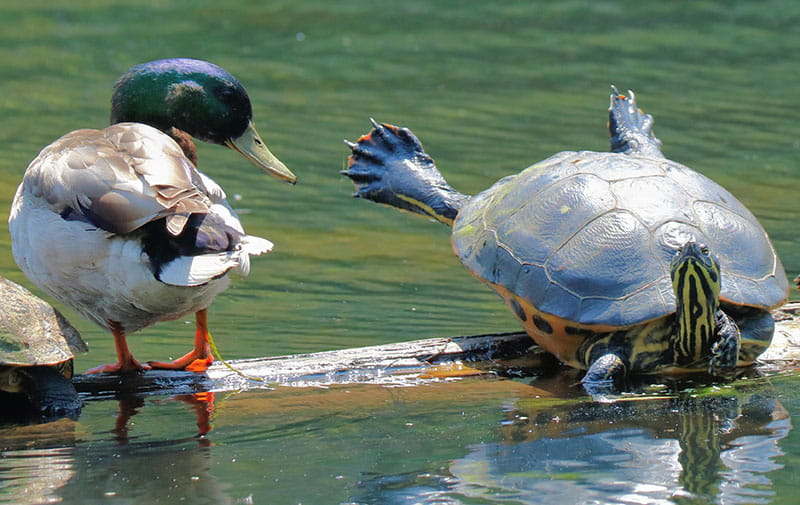 Duck: "Are you ok?" Turtle: "Yes, just doing some yoga."
A discussion from Beacon Hill Park, Victoria, B.C.
SUMMARY
New distraction – U.S. debt ceiling crisis
Canadian and U.S. markets update
Performance update
A holding we own – Lincoln Electric (LECO)
Team's personal update – family, community, bears, tulips, dancers, cliffs, soccer, studying, and jazz!
NEW DISTRACTION
If you followed the news during the past couple of months, you likely noticed that the previous crisis (2023 U.S. regional banking crisis) was replaced by a new source of fear – the risk of U.S. default related to U.S. debt ceiling/limit.
While most media outlets were quacking about that risk, the U.S. government was moving like a turtle towards an agreement that would prevent the default.
For those that are not familiar, according to the U.S. Treasury:
"The debt limit is the total amount of money that the U.S. government is authorized to borrow to meet its existing legal obligations, including Social Security and Medicare benefits, military salaries, interest on the national debt, tax refunds, and other payments."
"Failing to increase the debt limit would have catastrophic economic consequences. It would cause the government to default on its legal obligations – an unprecedented event in American history."
While it might sound scary, the reality is that U.S. Congress has acted 78 separate times, since 1960, to permanently raise, temporarily extend, or revise the definition of the debt limit, as Congressional leaders in both parties have recognized that this is necessary.
After a lot of drama in the news, the negotiators from Democratic and Republican parties have finalized an agreement in late May 2023, that, if approved, will solve the problem for a couple of years. If not approved in time, there are still some emergency solutions, like the 14th Amendment.
Why do we consider the latest crisis a distraction? Because it prevents many people from giving full attention to things that really matter to their personal and financial wellbeing.
CANADIAN AND U.S. MARKETS UPDATE (2023-06-01)
Both Canadian and U.S. equity markets have been "treading water" for about a year:
Canada TSX/SPX is hovering 0-15 per cent below the 2022 record high.
U.S. S&P 500 is hovering 10-25 per cent below the 2021 record high.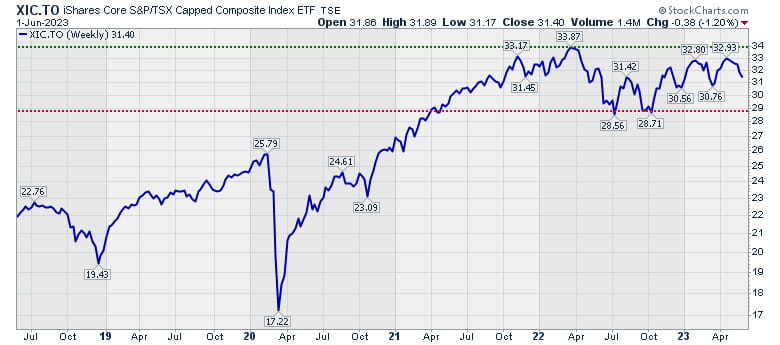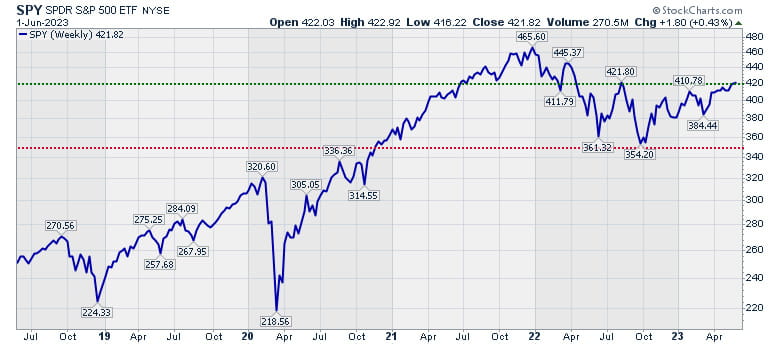 Charts courtesy of StockCharts.com
There are good reasons to sleep well at night:
✓ Slowing inflation – Continued signs of slowing down
✓ End of debt ceiling drama – As preliminary agreement was reached
✓ Healthy consumer – Better-than-expected U.S. core retail sales report (April), hotel industry continues to outperform its historical averages
✓ Optimistic home builders – Better-than-expected U.S. Home builder optimism index (May)
✓ Healthy employment – All-time new low unemployment rates in various segments of the market
✓ Long-term focus and discipline – Equity markets tend to offer superior long-term returns and, more so, when investing in diversified portfolios of high-quality businesses
As always, various known and unknown factors might lead to market volatility in the short term, but we are optimistic about, and focused on, the long run.
PERFORMANCE UPDATE (2023-05-31)
Most of our in-house investment strategies ended the years of 2021 and 2022 with significantly better results than the market averages.
In the first five months of 2023, our primary investment strategy, The Dividend Value Discipline™, is up about 1.06 per cent, significantly lagging the market indices. While most of the stocks have barely moved in 2023, the current rally in the U.S. market indices is heavily concentrated in a handful of mega cap stocks, of which we own just one – Microsoft (MSFT). We like our current holdings and sector allocation, and expect more companies to start participating in the equity market rally in the near term.
A HOLDING WE OWN – Lincoln Electric (LECO)
Lincoln Electric was founded in 1895, with a $200 investment by Lincoln brothers, John and James, to develop and commercialize a unique electric motor for industrial applications. By 1911, they invented and launched their first variable voltage arc welder, an innovation that catapulted Lincoln Electric into a new technology and industry that would drive its future success. Over 125 years later, Lincoln Electric has become the global leader in arc welding and cutting and is renowned as The Welding Experts® worldwide. Learn more about LECO's history here.
We discovered LECO in late 2022, studied and bought the initial stake in early 2023 for our core investment strategy – The Dividend Value Discipline™.
Our internal estimates of quality and investment return are quite attractive for Lincoln Electric. In fact, LECO is a top third name based on our estimated quality score:
MANAGEMENT – We admire long tenure of the leadership team, promotions from within, management incentive program, strong focus on cash conversion and return on invested capital, large insider ownership, "Higher Standard 2025 Strategy", and long-term focus. Over 125 years ago, the founders "envisioned a company that operated by the 'Golden Rule' — treating others with respect and dignity, the way every individual wants to be treated."
ECONOMIC MOAT – Competitive advantage driven by savings of scale (distribution to 160 countries), high switching costs, intangibles (LECO is a leading global welding industry solutions provider and patent filer), strong bargaining power on both consumer and supplier side. The economic moat is confirmed by high return on invested capital and strong cash flows.
INDUSTRY TAILWINDS – While LECO's end markets are cyclical, we believe that long-term outlook is favourable. We expect:

Organic growth – Demand for automation to be driven by labour shortage, also the need to replace the outdated global infrastructure with a more sustainable one, while building resilience against extreme climate change events. The latest growth initiative is the launch of fast chargers for EVs.
Non-organic growth - Acquisitions are a core growth driver of LECO's "Higher Standard 2025 Strategy". LECO, as the largest industry player, only holds a 1/6th share of the global arc welding market, implying a strong opportunity to grow through acquisitions and mergers.

ESG – The environmental, social and governance score of LECO is near average, according to Sustainalytics, which is good, considering that LECO is an industrial company.
DIVIDEND – Dividend has doubled in seven years, including the 14 per cent year-over-year increase from late 2022 (a consecutive 26-year dividend increase).
TEAM's personal UPDATE
Aspira team had another couple of months filled with exciting activities:
Chris and Arleen – are on their way back from two weeks in Ireland and the good news is they both survived Chris's driving on the left on incredibly narrow roads, most with rock walls on each side (and cliffs)! The highlight? Beautiful country and not a drop of rain.
Joanne – hiked with family along the Juan De Fuca trail and encountered a young black bear! They will continue to enjoy the great outdoors of Vancouver Island by hiking the West Coast trail in August.
Alex – enjoyed the Ukrainian Dance Festival (Mission, BC) and the Tulip Festival (Abbotsford, BC), and travelled east to visit his family in Rimouski QC and friends in Ottawa.
Melissa – had a lot of fun starting her camping season despite rainy and cold weather, hiked a segment of the Juan de Fuca trail with her family, and continued to be active in her community and Rotary club (Earth Day garbage pickup, May conference, and annual campout on Saysutshun Island).
Ben – was named Vancouver Island Soccer League referee of the year and participated in the Snow to Surf relay race in Courtenay with Raymond James colleagues. He is looking forward to experiencing some of the amazing musical acts around Victoria during Jazz Fest in June.
Clarke – travelled east to New Brunswick to visit some close friends, venturing to P.E.I and exploring Hopewell Rocks and walking along the seafloor. The plan for June is to enjoy summer in Kelowna and go mountain biking/camping.
Maxim and Edon – our remote investment detectives – studied hard for the second level exam of Chartered Financial Analyst program, to complement their Master degree from Zurich (Maxim) and Bachelor degree from Vienna (Edon).
Brittany – settled into her part-time Marketing position at Aspira Wealth. She and her husband are planning a road trip to Kelowna, Calgary and Red Deer to visit family at the end of June.
PLEASE REACH OUT
Let's chat about what is on your mind and the puzzles you are trying to solve.
It is our mission to help our clients live out their greatest aspirations!
Find this letter helpful?
Don't keep it a secret! Forward it to one or more friends and colleagues.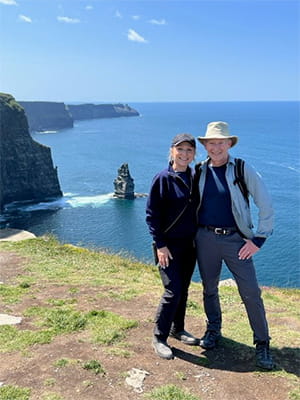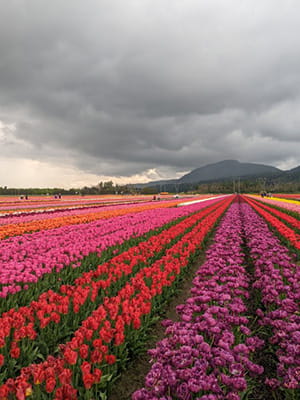 Chris and Arleen at Cliffs of Moher Ireland (left), Alex at Abbottsford Tulip Festival (right).
The information contained in this report was obtained from sources believed to be reliable, however, we cannot represent that it is accurate or complete and it should not be considered personal tax advice. This report is provided as a general source of information and should not be considered personal investment advice or solicitation to buy or sell securities. The views expressed are those of the author and not necessarily those of Raymond James. We are not tax advisors and we recommend that clients seek independent advice from a professional advisor on tax-related matters. This provides links to other Internet sites for the convenience of users. Raymond James Ltd./Raymond James (USA) Ltd is not responsible for the availability or content of these external sites, nor does Raymond James Ltd/Raymond James (USA) Ltd endorse, warrant or guarantee the products, services or information described or offered at these other Internet sites. Users cannot assume that the external sites will abide by the same Privacy Policy which Raymond James Ltd/Raymond James (USA) Ltd adheres to. Raymond James Ltd., Member—Canadian Investor Protection Fund. Raymond James (USA) Ltd. (RJLU) advisors may only conduct business with residents of the states and/or jurisdictions for which they are properly registered. Raymond James (USA) Ltd. is a member of FINRA/SIPC.