INVESTMENT MARATHON #11 • March 2023
The building blocks of Aspira Wealth's long-term investment strategy
Newsletter by Alex Vozian, CFA, Co-Founder and Associate Portfolio Manager
Subscribe to our newsletters in one click.

23 turtles enjoying the sunshine in Beacon Hill Park, Victoria, BC.
SUMMARY
The investment world has changed a lot
Canadian and U.S. markets update
Performance update
Featured holding – CDW Corporation (CDW)
Bench strength and artificial intelligence
the Investment world has changed a lot
The investment world has changed a lot since January 2023 edition of Investment Marathon newsletter, adding new opportunities to long-term investors.
The 2023 banking crisis (involving Silicon Valley Bank, Signature Bank, Credit Suisse) is presented as a catastrophic and devastating event in the news. In contrast, we see an improvement of the investment landscape for disciplined and well-diversified investors.
Central banks will likely slow, or even reverse, their recent increases in interest rates. This is a major positive for equity markets.
Commercial banks might tighten their lending standards and improve asset-liability matching – thereby increasing resilience of the financial system.
Businesses and consumers might see a decline in their ability and willingness to (over)spend – thereby slowing down the inflationary pressures.
Recent developments in Artificial intelligence (AI) are expected to create value and investment opportunities in various fields. The AI space was invigorated after Microsoft's $10 billion investment/partnership with OpenAI that prompted Microsoft's rivals to accelerate their AI efforts.
We believe that AI will be the most revolutionary technology in a while and hope that it might boost the labour productivity and problem solving in various industries. As any new technology, AI has some limitations and is causing various fears.
Over time, we think AI could be put to a good use in several fields. We see AI more as a complement to, than a replacement of, human work. There is no substitute to human judgment and ingenuity.
The most likely winners from the AI boom in our view are:
Consumers – who have a new inexpensive tool to complete various tasks.
Semiconductor and cloud computing companies – including some of our holdings.
CANADIAN AND U.S. MARKETS UPDATE (2023-03-23)
Both Canadian and U.S. equity markets are "treading water" for six months now, hesitating between the lows from middle of 2022 and record highs of early 2022.
We continue to be optimistic and expect markets to move above recent highs in the long run. The following assumptions make us sleep well at night:
✓ Negative sentiment – more negative than last time (recall Buffett's quote "be fearful when others are greedy, and greedy when others are fearful."
✓ Slowing inflation – continued signs for slowing down (this might force central banks slow, or reverse, interest hikes)
✓ Bank failures in U.S. and Europe – a new positive assumption (mentioned in the section above)
✓ Favourable seasonality - Stock markets (at least in the U.S.) tend to do better from November to April (compared to rest of the year) as well as immediately after U.S. midterm elections.
✓ Long-term focus and discipline – Equity markets tend to offer superior long-term returns and more so when investing in diversified portfolios of high-quality businesses.
As always, various known and unknown factors might lead to market volatility in the short term, but we remain optimistic about the long run.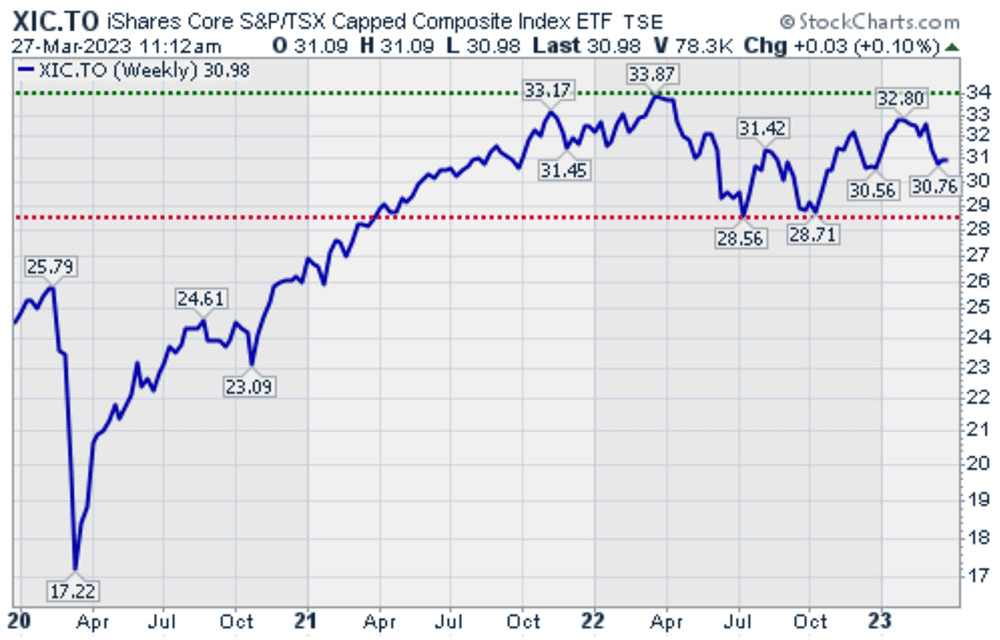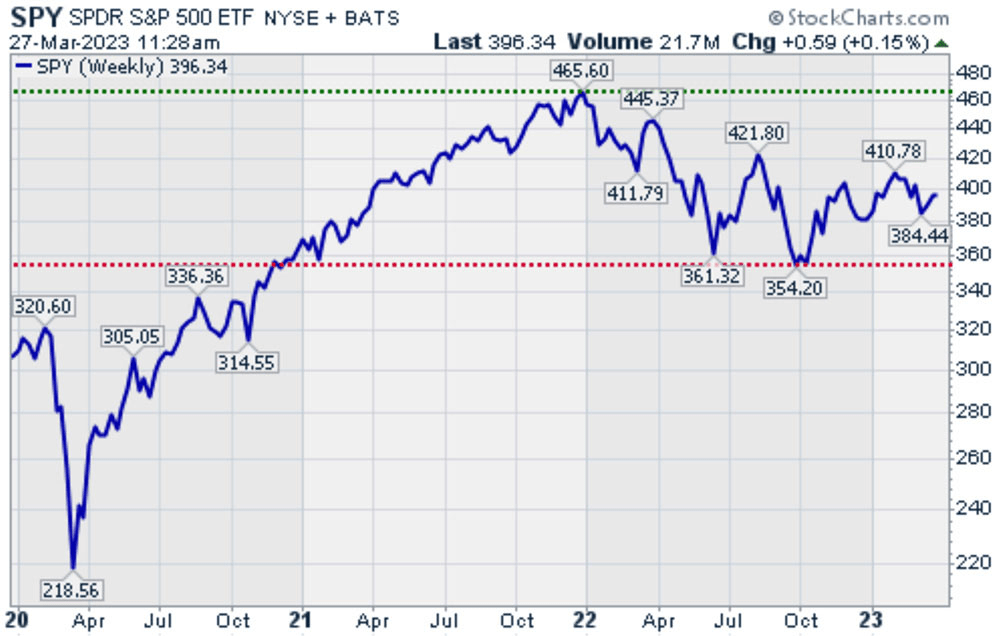 Charts courtesy of StockCharts.com
PERFORMANCE UPDATE (2023-03-23)
Most of our in-house investment strategies ended the year 2022 with better results than the market average. Chris shared details in his recent publication Where We Landed for 2022.
Since the start of 2023, our primary investment strategy, The Dividend Value Discipline™, is up about 2.3 per cent, modestly lagging market averages.
While we are pleased with our results for 2021 and 2022, we place no weight on short-term results, good or bad, and neither should you. In fact, we occasionally make decisions that negatively impact short-term performance if we think we can improve our long-term returns and/or lower risk levels.
A HOLDING WE OWN – CDW CORPORATION
CDW Corporation (CDW) provides technology solutions to over 250,000 business, government, education and healthcare customers from the U.S., the U.K. and Canada – helping them navigate an increasingly complex IT market. CDW goes to market with a series of sustainable competitive advantages developed during 35+ years of delivering technology to customers.
We discovered CDW in 2018 and after studying it thoroughly in 2020, we started buying it in November 2020 for our core investment strategy – The Dividend Value Discipline™.
Our internal estimates of quality and investment return are quite attractive for CDW. In fact, CDW is a top 3 name based on our estimated quality score:
MANAGEMENT – we admire their long-term focus, insider ownership, part of executive compensation being driven by FCF and market share gains.
ECONOMIC MOAT – competitive advantage driven by large scale and client switching costs. The moat is confirmed by the return on capital and strong cash flow generation. Given its intimate knowledge of technological environment and access to 100,000 products from 1,000+ leading and emerging partners, CDW becomes a "Chief Technology Officer" for small businesses.
INDUSTRY TAILWINDS – IT spending might slow down after large acceleration during Covid, however, we expect it to restart growing at above GDP growth rate. CDW seems determined to exceed the industry growth rate by focusing on higher growth areas and by supplementing the organic growth with occasional acquisitions – the last large acquisition was Sirius $2.4 billion in 2021. Additionally, the recent job cuts across the tech industry might ease CDW's search for talent.
ESG – the environmental, social and governance score of CDW is very attractive (9.2) according to Sustainalytics, while another source – MSCI – upgraded CDW score from "BBB" to "A" in 2022.
DIVIDEND – dividend has doubled in just 3 years, including the 18 per cent year-over-year increase from late 2022.
BENCH STRENGH AND ARTIFICIAL INTELLIGENCE
It is about time to share another little secret about our team. This time, it is about our Ben! While you may have met him in a meeting or a phone call before 5pm, please note that after 6pm you will see him with a whistle and a flag on soccer fields. He is a provincial soccer referee and was recently assigned to several professional exhibition games!
Ben's passion for both financial industry and soccer has always surprised me. To solve this puzzle, I decided to test ChatGPT (i.e., an artificial intelligence tool) with the following question – "Why would an experienced soccer referee be a great financial advisor?"
I couldn't believe how great the response was – here are some quotes:
"Soccer referees and financial advisors may seem like two completely unrelated professions. However, there are several key qualities that an experienced referee possesses that would make them a great financial advisor."
"Incredible attention to detail. A referee must keep track of multiple things at once, such as player positions, fouls and time. Similarly, a financial advisor must pay close attention to client's financial situation – income, expenses, debts, investments. They must also be able to analyze complex financial data and spot potential issues before they become major problems."
"Decisiveness. Referees must make decisions that can have a significant impact on the game. Similarly, financial advisors must be able to think critically and provide sound advice in a timely manner."
PLEASE REACH OUT
It is our mission to help our clients live out their greatest aspirations!
Feel free to reach out to discuss what is on your mind and the puzzles you are trying to solve.
Learn more about us by checking out our team's page and the founders' video.
THANK YOU FOR READING MY NEWSLETTER
Subscribe to our newsletters with one click.
Read our earlier publications here https://www.aspirawealth.com/insights.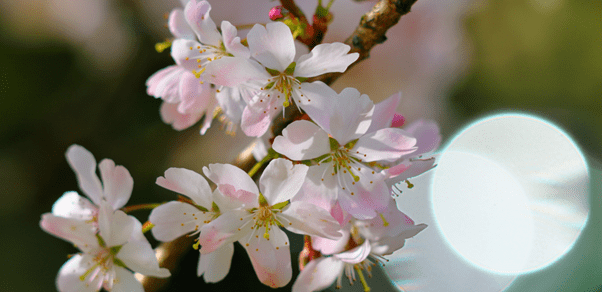 Spring is back - cherry blossom from Beacon Hill Park, Victoria, B.C.
The information contained in this report was obtained from sources believed to be reliable, however, we cannot represent that it is accurate or complete and it should not be considered personal tax advice. This report is provided as a general source of information and should not be considered personal investment advice or solicitation to buy or sell securities. The views expressed are those of the author and not necessarily those of Raymond James. We are not tax advisors and we recommend that clients seek independent advice from a professional advisor on tax-related matters. This provides links to other Internet sites for the convenience of users. Raymond James Ltd. is not responsible for the availability or content of these external sites, nor does Raymond James Ltd endorse, warrant or guarantee the products, services or information described or offered at these other Internet sites. Users cannot assume that the external sites will abide by the same Privacy Policy which Raymond James Ltd adheres to. Raymond James Ltd., Member—Canadian Investor Protection Fund. Raymond James (USA) Ltd. (RJLU) advisors may only conduct business with residents of the states and/or jurisdictions for which they are properly registered. Raymond James (USA) Ltd. is a member of FINRA/SIPC.