INVESTMENT MARATHON #9 • November 2022
The building blocks of Aspira Wealth's long-term investment strategy
Newsletter by Alex Vozian, CFA, Co-Founder and Associate Portfolio Manager
Subscribe to our newsletters in one click.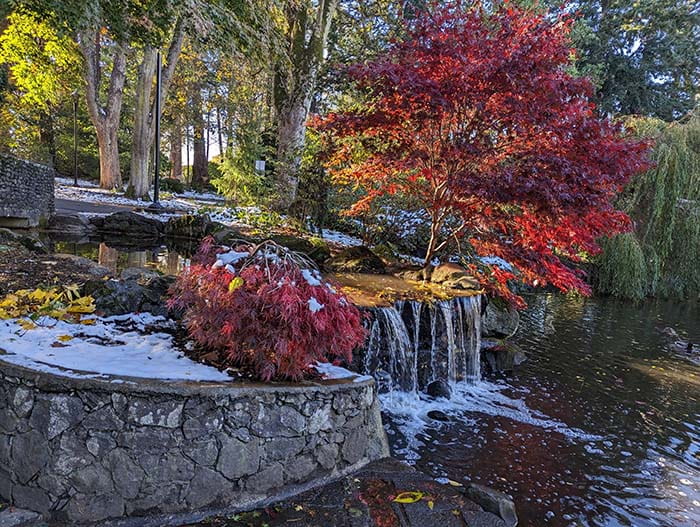 1st snow in Victoria! - Beacon Hill Park, Victoria, BC.
SUMMARY
Canadian and U.S. markets update
Performance Update
Cummins Inc. (CMI) – one of our holdings
1st Anniversary! What did you enjoy the most?
CANADIAN AND U.S. MARKETS UPDATE (2022-11-18)
As you can see in the charts below, both Canadian and U.S. equity markets remain volatile but mostly confined in the same trading range that started in the summer of 2022.
Primary fears are still the same…
Central banks are raising interest rates to reduce inflation. This might cause a recession.
War in Ukraine causing global geopolitical uncertainty & energy crisis in Europe.
Lingering effects of the recent pandemic: supply chain issues, particularly from Chinese intermittent lockdowns.
… while we currently have 6 reasons for optimism for long term investors:
Extreme Negative Sentiment - A lot of negatives are already reflected in equity prices. Earnings expectations have been revised down by 5-10% since the start of 2022, while valuation multiples have contracted by a quarter from 2021 highs.
Slowing Inflation - Good news on the inflation front – new data points from real estate, used cars, as well as the latest US Producer Prices report reflect a moderating inflation.
China Trade is Less Bad - China started to relax its covid policy.
Europe Energy is Less Bad - European Natural Gas benchmark prices have declined over 60% from 2022 peak - due to LNG oversupply and milder than expected weather.
Favorable Seasonality - Stock markets (at least in the U.S.) tend to do better from Nov to April (compared to rest of the year), as well as immediately after US midterm elections.
Long Term Focus & Discipline – Equity markets tend to offer superior long term returns and more so when investing in diversified portfolios of high quality businesses. It is impossible to determine where market will be in the short term, but we expect it to be higher in the long run.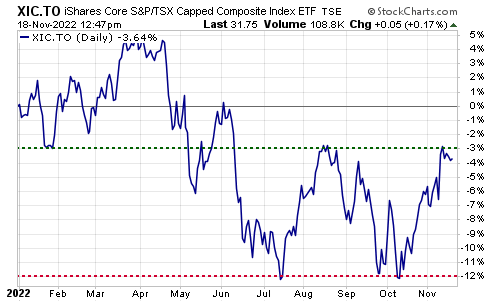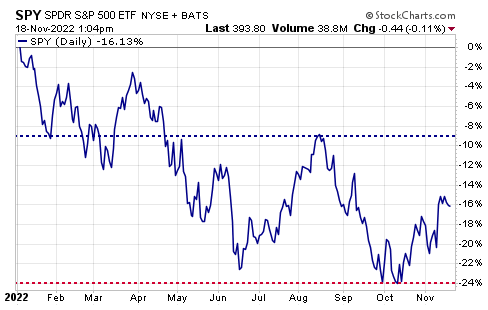 Charts courtesy of StockCharts.com
Performance Update (2022-11-17)
Since the start of 2022, most of our in-house investment strategies continue to do better than the overall market. Our significant exposure to companies thriving in (or at least immune to) inflationary environments is definitely helping our portfolios.
Our primary investment strategy, The Dividend Value Discipline™, was down 2% year to date, as of 2022-11-17 market close, significantly better than market averages.
While these results are relatively great, we place no weight on short-term results, good or bad, and neither should you. In fact, we occasionally make decisions that negatively impact short-term performance if we think we can improve our long-term returns and/or lower risk level.
A HOLDING WE OWN – Cummins Inc.
Cummins Inc. (CMI) is a company thriving in the current inflationary environment.
CMI is a global power technology leader, founded in 1919 and employing about 60,000 people. CMI products range from internal combustion, electric and hybrid integrated power solutions to components including filtration, aftertreatment, turbochargers, fuel systems, controls systems, air handling systems, automated transmissions, electric power generation systems, microgrid controls, batteries, electrolyzers and fuel cell products.
We started adding CMI to our core investment strategy - The Dividend Value Discipline™ - in summer of 2022, after following it for several years.
CMI is our top 10 highest estimated upside holding, while also ranking high on our proprietary quality score.
Great management - long management tenure, high insider ownership, long term compensation linked to return on invested capital, transparent management and focus on the long term (provided revenue guidance for 2030)
Solid competitive advantage from multiple sources: large scale, significant switching costs for customers, strong research and development base. The wide economic moat is confirmed by high return on invested capital and cash flow generation.
Significant industry tailwinds. During the past 10 years, the growth in industrial equipment spending around the world was suppressed by the aftermath of the financial crisis of 2007–2008, slowing Chinese economy, oil crash of 2014, environmental stewardship, and other factors.
We expect the future 5-10 years to be quite the opposite (i.e. very favorable) – North American demand should be driven by reshoring of manufacturing, investments in energy security, as well as sourcing of critical raw materials (including those needed for electrification of transportation).
Attractive environmental, social and governance (ESG) score. CMI's ESG score is above average (i.e. good), despite industrial manufacturing being often rated low on Environmental factor. The high score was likely achieved thanks to long term focus on sustainability (CMI's PLANET 2050 environmental sustainability strategy and Destination Zero™ product strategy), as well as CMI's New Power segment (electrolizers and fuel cells).
Increasing dividend. CMI dividend increased by 8 per cent in 2022 – less than average, but we expect dividend income to be supplemented via capital appreciation (forward P/E multiple is just 13x).
1st Anniversary! What DID you enjoy the most?
Thank you for taking this journey with me! I started this newsletter a year ago with the following goals in mind:
Share the building blocks of our investment strategy
Help you stay focused on the long term, despite the constant short term noise in the news
Connect with you on a more personal level
Since it is over a year since the first edition, I am curious if you could share which segments you enjoyed the most:
Market updates
Performance update
Holdings that we own
Ways we help
Book reviews
Personal & family updates
Painting & photography
PLEASE REACH OUT
It is our mission to help our clients live out their greatest aspirations!
Feel free to reach out to discuss what is on your mind and the puzzles you are trying to solve.
Learn more about us by checking out our team's page and from the founders' video.
Thank You for reading my newsletter
Subscribe to our newsletters with one click.
Our previous publications are available here https://www.aspirawealth.com/insights.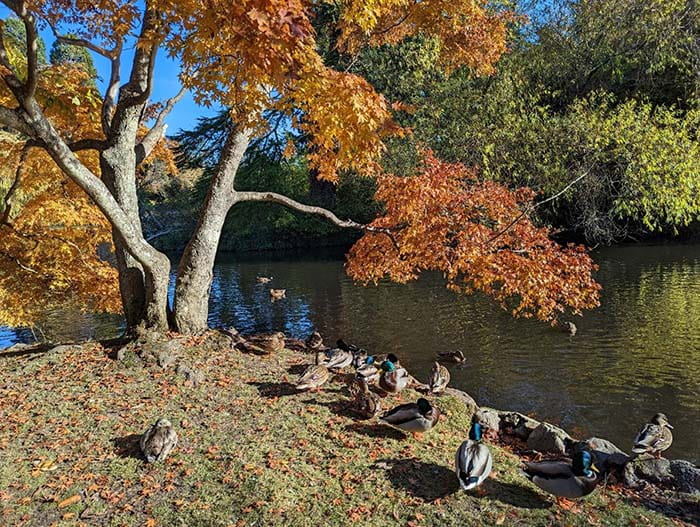 Fall colors at Beacon Hill Park, Victoria, BC.
The information contained in this report was obtained from sources believed to be reliable, however, we cannot represent that it is accurate or complete and it should not be considered personal tax advice. This report is provided as a general source of information and should not be considered personal investment advice or solicitation to buy or sell securities. The views expressed are those of the author and not necessarily those of Raymond James. We are not tax advisors and we recommend that clients seek independent advice from a professional advisor on tax-related matters. This provides links to other Internet sites for the convenience of users. Raymond James Ltd. is not responsible for the availability or content of these external sites, nor does Raymond James Ltd endorse, warrant or guarantee the products, services or information described or offered at these other Internet sites. Users cannot assume that the external sites will abide by the same Privacy Policy which Raymond James Ltd adheres to. Raymond James Ltd., Member—Canadian Investor Protection Fund. Raymond James (USA) Ltd. (RJLU) advisors may only conduct business with residents of the states and/or jurisdictions for which they are properly registered. Raymond James (USA) Ltd. is a member of FINRA/SIPC.