ASPIRA'S TIMELY MARKET DISPATCH
THE FEAR IS PALPABLE
May 2nd, 2022
For clients receiving this missive, please be advised that most household accounts (a blend of our strategies) have pegged in at the -5% to -6% range on a year to date basis, to April 30, 2022. Our Canada only Keep More Income and Next Cycle Resource Fund strategies remain strongly double digit on a stand-alone basis.
So yes, the month of April was a tough one for investors, but here is a fresh spring perspective from the 91 year old sage of Omaha, Warren Buffett, Chairman and CEO of Berkshire Hathaway. At this past weekend's annual meeting, he revealed that the company spent some $51 billion on the likes of Apple, Chevron and Occidental Petroleum and a smattering of others, during the April selloff. He likes cheaper stock prices and we do too. It fits nicely with his now famous quote, "we try to be greedy when others are fearful and fearful when others are greedy".
And yes, investors are fearful. Below is a chart of the American Association of Individual Investors weekly survey for the last 35 years up to Thursday, April 28, 2022. In a nutshell, retail investors are about as fearful today as they were at the start of the 1990 Gulf War, the 2008/09 real-estate collapse and the Covid induced market rout. They are more fearful than they were in the dot.com meltdown and after 9/11.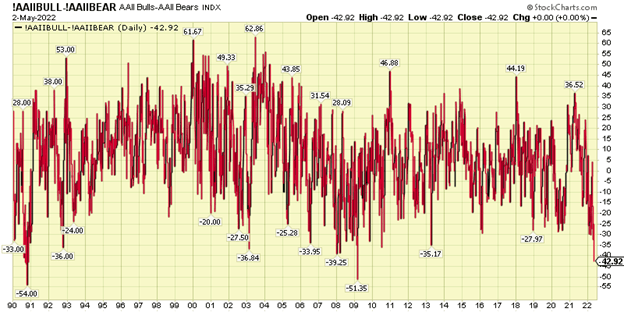 So what does that mean? Let's start with what the above chart is not telling us. It is not telling us that markets cannot go down from here. It does not mean that we are done with higher inflation, higher interest rates, war fears and or supply disruptions. Rather it is telling us that a lot of the current fear could already be priced into stocks and any lessening of those fears could very well pave the way for higher stock prices.
Let's look at some of the things investors are concerned about via a smattering of charts and our take on what the charts are telling us.
While we see good value in a lot of energy stocks, oil looks to have peaked for the foreseeable future.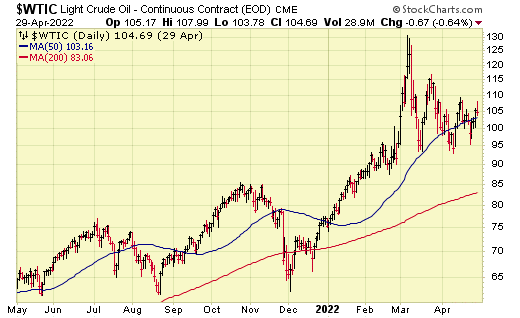 The demand for copper is clearly abating – points to slower growth and less inflationary pressure.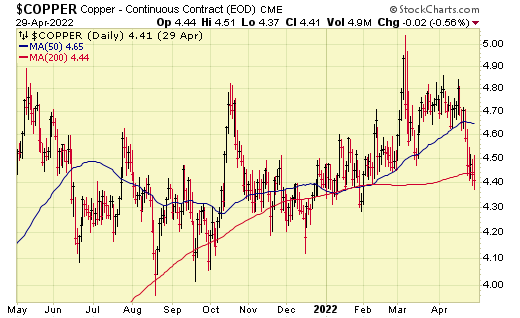 The semiconductor space has taken it on the chin – the slower growth is not confined to manufacturing.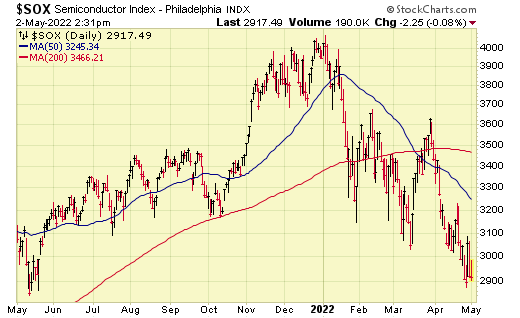 The transports are already signaling a slowdown, which is now well underway.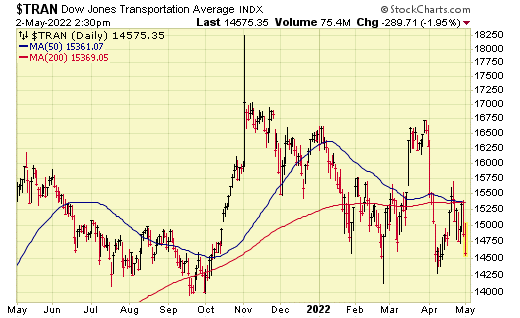 The world's 10-year benchmark interest rate just pegged 3% - we are biased to the downside.
Bottom line, the above charts paint a picture of inflation, commodity prices and long-term interest rates that have already peaked – the economy is slowing. It remains to be seen if we move into a recession.
Our standard counsel applies. Investor behavior is the #1 determinant of lifetime returns. The time to send money is when most investors are clearly fearful. Will you be that kind of investor? Will you emulate Buffett?
Please feel free to share this missive as you see fit and please do reach out to us if you would like more information.
Chris Raper, CIM, CFP ®
Senior Wealth Advisor | Portfolio Manager
250.405.2434 | chris.raper@raymondjames.ca | www.aspirawealth.com
Aspira Wealth of Raymond James Ltd.
Book Appointments | Subscribe to Publications | Latest Insights
Victoria 1175 Douglas Street Suite 1000 Victoria, BC V8W 2E1
Calgary 525-8th Ave SW Suite 4100 Calgary, AB T2P 1G1
Edmonton 10060 Jasper Avenue Suite 2300 Howard Place, Tower 1 Edmonton, AB T5J 3R8
Website legal disclaimers
Raymond James Ltd. is an indirect wholly-owned subsidiary of Raymond James Financial, Inc.
Securities-related products and services are offered through Raymond James Ltd., member Canadian Investor Protection Fund.
Insurance products and services are offered through Raymond James Financial Planning Ltd, which is not a member Canadian Investor Protection Fund.
Raymond James Trust Services are offered by Raymond James Trust (Canada) in the provinces of British Columbia, Alberta, Saskatchewan, and Ontario, and by Raymond James Trust (Québec) Ltd. in the province of Québec. Both entities are wholly owned subsidiaries of Raymond James Ltd. Trust Services are not covered by the Canadian Investor Protection Fund. Use of the Raymond James Ltd. website is governed by the Web Use Agreement | Client Concerns.
Raymond James (USA) Ltd. All rights reserved.
Raymond James (USA) Ltd. advisors may only conduct business with residents of the states and/or jurisdictions in which they are properly registered. Investors outside the United States are subject to securities and tax regulations within their applicable jurisdictions that are not addressed on this website.
Raymond James (USA) Ltd. is a member of FINRA/SIPC.





This website may provide links to other internet sites for convenience of users. Raymond James (USA) Ltd. is not responsible for the availability of content of these websites, nor does the firm endorse, warrant or guarantee the products, services, or information described or offered by these other internet sites. Users cannot assume that these websites will abide by the same Privacy Policy that Raymond James (USA) Ltd. adheres to.
Please click on the link below to stay connected via email.
*You can withdraw your consent at any time by unsubscribing to our emails.