INVESTMENT MARATHON - September 2021 - by Alex Vozian, CFA.
A short monthly newsletter where we share the building blocks of our long-term investment strategy.
If somebody forwarded you this email, you can subscribe here.

Composition from tree leaves collected in Mont-Orford National Park, by Alex in 2012.
Market Update - September 2021
Despite the market decline in September 2021, both Canadian and U.S. stock markets have gained well above historical averages during the first 9 months of 2021. The September decline did not surprise us, because this month is known for its weakness. For the past ten years, September was the worst month of the year for the U.S. stock market, and the second worst month for the Canadian stock market.
We continue to expect North American markets to be higher 5 years from now (although at a smaller pace than the 2019-2021 period), supported by government's favorable monetary and fiscal policies, accelerating economic growth as the world is recovering from the Covid-19 pandemic. In the meantime, journalists will keep stoking fear and frustration among investors with all sorts of worst-case scenario thinking, like the most recent one - debt woes of a Chinese property developer, Evergrande Group.
Our main investment strategy - The Dividend Value DisciplineTM - continues to participate well in the market rally, in part because of our proprietary Core-Satellite approach:
The core portion of the portfolio (~80% of total) includes 25-30 long-term & high quality holdings which we expect to perform well in any market environment.
The satellite portion (~20%) includes investments in various commodities and specific sectors that are witnessing a cyclical acceleration.
A Holding We Own - NVIDIA Corp. (NVDA)
In our August newsletter, we featured Constellation Software (CSU) – a little known Canadian technology company with best-in-class management and an economic moat. In the current letter, we are featuring a slightly different story:
NVIDIA Corp (NVDA) – formerly a small gaming company, and currently one of the most important technological companies in the world.
NVIDIA's graphics processing units (GPUs) are driving the digitalization of the global economy, from data centers and cloud computing, self-driving cars and artificial intelligence (AI), to gaming, visualization, and cryptocurrency mining.
On top of having a great management team (that is founder-led) and competitive advantages (switching costs, network effects, pricing power), NVIDIA is reshaping the market via its AI platforms - the next era of computing – as accelerated AI computing on virtual machines is significantly more efficient than on bare metal servers.
The amount of data collected worldwide doubles every couple of years and only a very tiny portion of that data is currently being analyzed. This implies significant room for long-term growth for processing units developed by NVDA and their competitors.
We started following NVDA's story in 2016 and bought our initial position in 2019 when NVDA became out-of-favor with the burst of the 2018-2019 crypto bubble. We believe that gamers and datacenters are holding up the strong GPU demand, and thus, the uncertainty of crypto should not impact the company's future earnings.
A Book We Have Read - Atomic Habits
Atomic Habits, by James Clear - "An easy & proven way to build good habits & break bad ones. This breakthrough book ... is the most comprehensive guide on how to change your habits and get 1% better every day."
Most people are interested in transforming some areas of their lives (relationships, health, financial, etc…) and often abandon these goals after not seeing immediate visible results. The book reminds us that we can succeed in improving our lives by committing to some tiny (atomic!) positive habits.
A bit of math to prove this - if you get 1% better at something every day, at the end of the year you will be 37 times better (!) compared to where you started.
Fun fact about habits: Alex's physiotherapist recommended core strength exercises, like planks, to prevent low back pain. At the same time, Alex was concerned he was spending too much time playing chess. Guess how Alex tackled both issues? Yes, he started playing chess while keeping a plank position. According to the "Atomic Habits" book, this habit building approach is called "habit stacking", when you link a desired habit to an existing habit.
A Way We Help - Enforcing Discipline
In our previous newsletter, we discussed how we help clients "do well while doing good" - i.e., about sustainable (ESG) investing. Today, we will focus on the #1 ingredient of "doing well" - it is Discipline.
"Successful investing takes time, discipline, and patience. No matter how great the talent or effort, some things just take time" - Warren Buffett.
The average investors in the stock markets earn returns significantly below market average. This underperformance is rooted in a lack of discipline - humans are just not wired for disciplined investing and they often fall victim to dozens of behavioural biases like: overconfidence, herd mentality, familiarity bias, mental accounting, etc.
Our team goes a long way to enforce discipline at all levels of the process:
Client level:

create and maintain a long-term and tax-efficient financial plan
instill rational behaviour during all market cycle stages
Investment research level:

Investment in individual companies - follow checklists with dozens of qualitative and quantitative requirements related to culture, competitive advantage, economic tailwinds, circle of competence, dividend growth, sustainable investing
Investment in ETFs - select lowest cost and largest liquidity ETFs
Portfolio management level:

rule based portfolio management in order to minimize emotional biases while adding or removing securities from the portfolio
keeping a very detailed decision journal for future reference and process improvement
A Moment To Enjoy – Painting Tools
Discipline and good habits are important, but sometimes we just need to forget about the rules and have some fun, ideally in areas where it is safe to do so. According to Alex, the best place to forget about rules is art. Anyone can create art - regardless of experience, talent, and access to art supplies.
Fun art fact: The most common painting instrument is the brush. For more textured paintings, palette knives were used for hundreds of years. Some artists are using spoons to make three-dimensional flower petals... One day Alex was wondering what else he could use as a painting instrument and he got a crazy idea.
Can you guess it from the painting below? Tip: You have that instrument in your kitchen, and it is not a knife or spoon.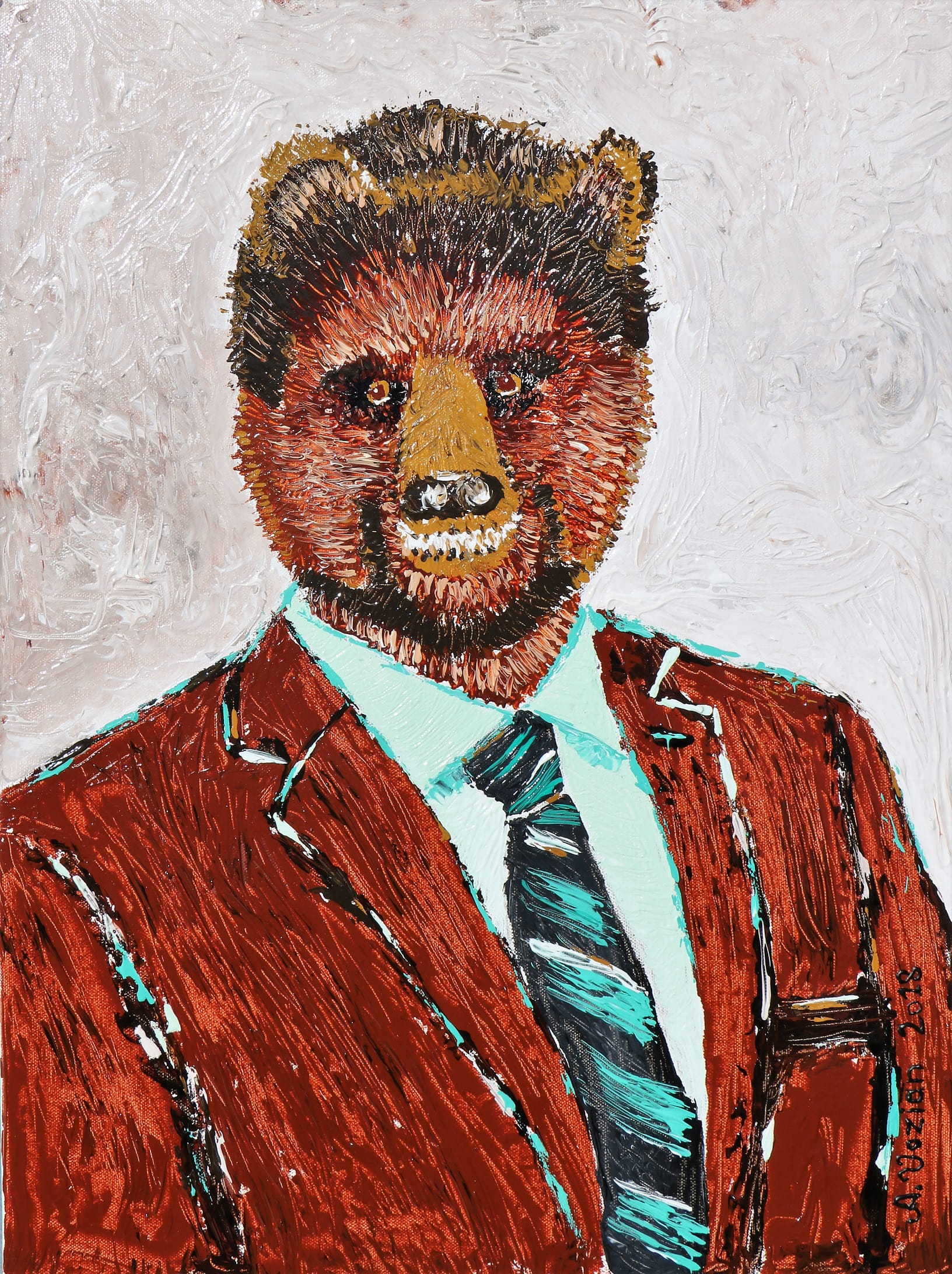 "Bear a resemblance", by Alex Vozian in 2018.
Happy Thanksgiving
"I am grateful for the beautiful daily moments with my family, for the opportunity to collaborate with a dedicated and talented group of people, and for the trust our clients have placed in us for so many years" - Alex.
Thank You!
Did you find this letter insightful? Please share it with a friend who might enjoy it too!
Do you have any questions or ideas to share? Please email, call, or even better - let's have a cup of tea ☕!
Alex Vozian, CFA.
Alex joined Chris Raper & Associates in 2013 where he leads the investment research side of the business. Born and raised in the "Kingdom of World's Largest Wine Cellars" (Moldova), he was lucky to start a career in the North American stock market back in 2003 – a field which encompasses several areas of interest for him - psychology, mathematics, economics, and computer science.
Alex has a Chartered Financial Analyst designation, has completed multiple Canadian securities courses, as well as a few modern applied psychology courses. Full bio is available here