DEAR READER,
I hope you will enjoy the second edition of THE QUARTERLY COMPASS!
In the current edition you will find:
Minor changes to our long-term thinking - for your convenience all changes are written in bold blue text.
Improvement in the investment performance of our core strategy - The Dividend Value Discipline™ - for the nine months of 2023.
Some insights from Chris.
Alex Vozian, CFA
Co-Founder and Associate Portfolio Manager
Aspira Wealth.
-----------
THE QUARTERLY COMPASS - ASPIRA WEALTH – SEPTEMBER 30, 2023
Summary: Stock market fears may have increased since our last update, but we do not see major changes in the big picture.
BROAD MARKET OBSERVATIONS
CANADIAN STOCK MARKET
The Canadian stock market is now ~10 per cent below the high of 2022 and near the three-year moving average level (

green

line).
This decline reflects the expected slowdown in the Canadian economy (because of Bank of Canada's efforts to reduce inflation) as well as the typical market weakness from mid-year.
We do not expect the Canadian stock market to drop more than an additional 10 per cent (

grey

horizontal line). If it does approach that level, we will likely:

Encourage clients to seize the opportunity of buying more at cheaper prices.

Discourage clients from selling their investments in panic.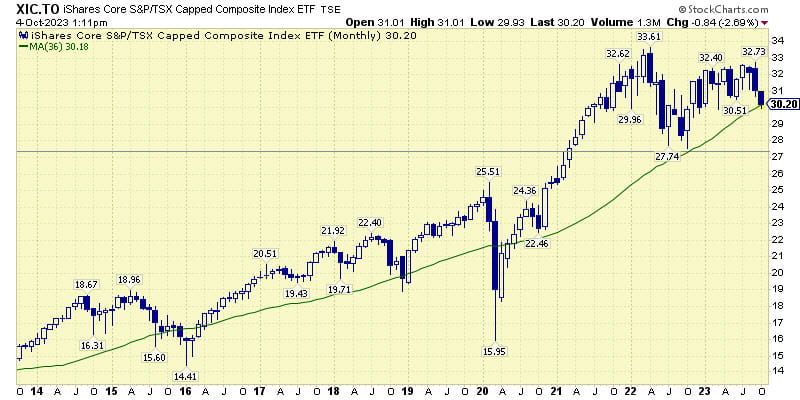 Chart courtesy of StockCharts.com
U.S. STOCK MARKET
The U.S. market remains in a solid long-term uptrend. While it contracted ~10 per cent from the high of 2022, the U.S. market is still above the three-year moving average (

green

line), as it did most of the past 10 years.

Most of what we mentioned above for Canada also applies to the U.S.
Chart courtesy of StockCharts.com
USD CAD Exchange Rate
Over the past 30 years, the Canadian/U.S. dollar exchange rate was quite volatile, but it spent half of the time within the 1.20-1.50 CAD/USD range, including the last 8+ years.
We assume that, over the long run, the exchange rate between CAD and USD will remain rangebound, having a neutral effect for Canadian investors with exposure to stocks listed in U.S., and for the U.S. Investors with exposure to Canadian stocks. Our assumption is based on the depth of economic connection between Canada and U.S., as well as economic policy similarities.
We will continue to allocate 50-75 per cent of exposure to U.S. stocks, to not be limited by the rather undiversified Canadian stock market.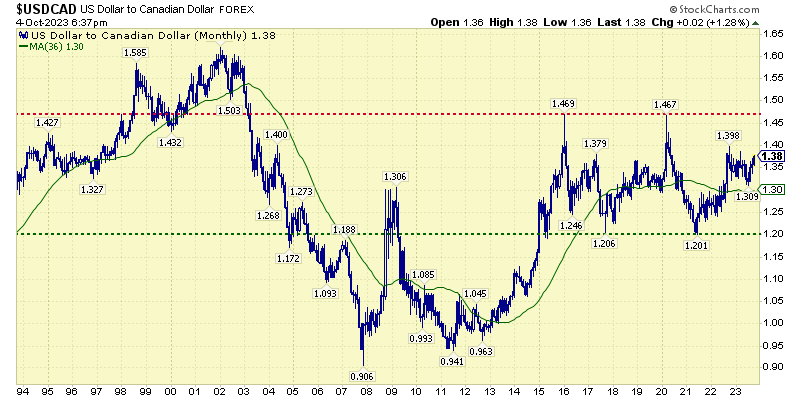 Chart courtesy of StockCharts.com
Dr. Copper
Copper price is assumed to predict turning points in the global economy, since it is used widely in most economic sectors.
Copper price remains very volatile since mid-2022 and is down so far in 2023.
We are still optimistic, as we see the current price above the low of 2022, while the latter is above the low of 2020.
It is hard to imagine copper prices going much lower in the long term, as discoveries of new copper deposits are limited while the world needs a lot of copper as electrical vehicles are gaining market share.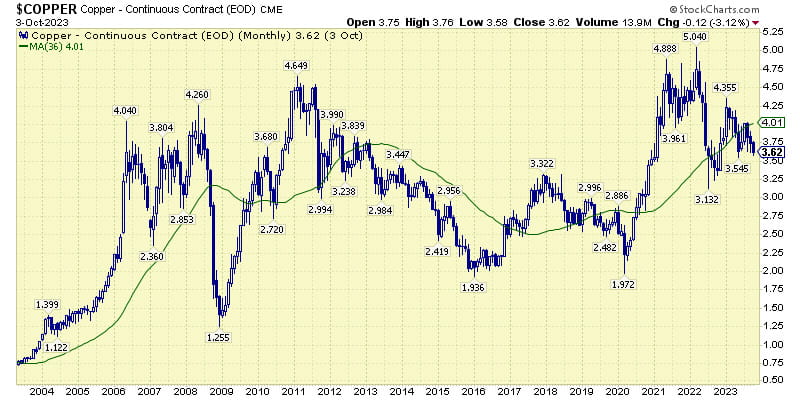 Chart courtesy of StockCharts.com
Dr. Semiconductor
Semiconductors, a more modern version of Dr. Copper, are reflecting what is happening in the most advanced parts of the economy.
Semiconductor stocks are doing well, as seen in the chart below.
Current strength is driven by the AI race and push for semiconductor independence.
Stock prices in the sector declined during the last couple of months but are still above the three-year moving average (

green

line). We expect long-term strength in the sector.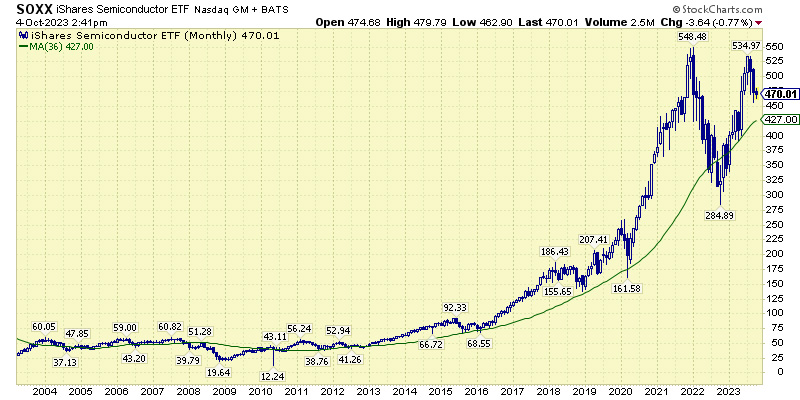 Chart courtesy of StockCharts.com
Energy
U.S. oil price (WTI) increased significantly since our July 2023 update (from ~$72 to ~$89). We continue to expect U.S. oil price (WTI) to stay in the wide range of $60-100 per barrel. We think it is unlikely to go below $60 during the next 3-6 years, considering the relatively low investments in production capacity in the past 10 years. We don't expect it to go above $100, given the continuous efforts to transition to cleaner energy.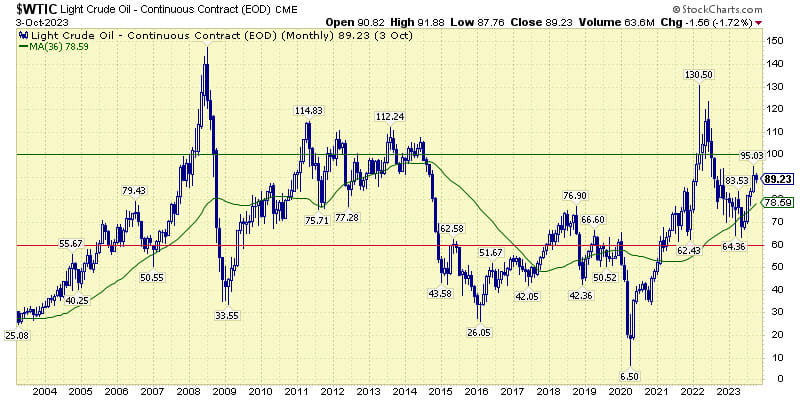 Chart courtesy of StockCharts.com
U.S. natural gas price also improved since our last update. We expect it to stay in a wide range of $2-5 per MCF (the gas prices are oscillating more than oil prices, due to exposure to the weather / heating season). We do not expect it to go lower than $2 since the world is transitioning from coal / oil consumption towards natural gas and other cleaner alternatives.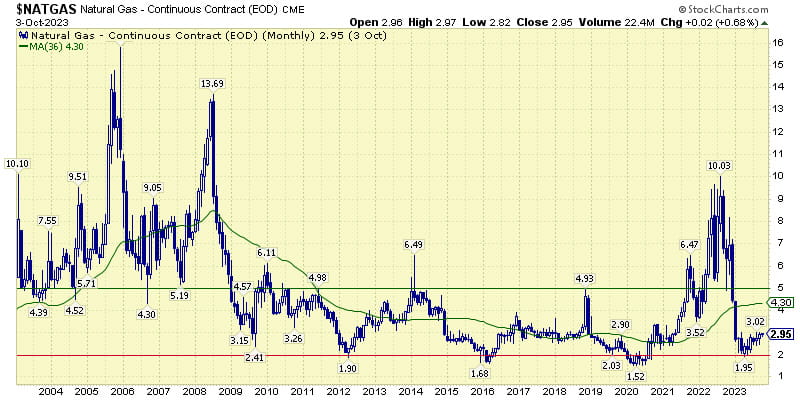 Chart courtesy of StockCharts.com
INVESTMENT INSIGHTS FROM CHRIS
"I am really encouraged that our core program – The Dividend Value Discipline™ – has exceeded its benchmark in the first nine months of 2023, and it has done so without the high risk that I see in the mega cap space.
The great thing about October is that it is often a time when investors tend to throw out the baby with the bath water, and it is now less than 30 days away from the seasonally strongest six months of the year.
The Canadian energy complex continues to offer eye-popping value – Western Canada Select has traded to $100 CAD per barrel, there is very little debt within the system, and returning cash to shareholders continues to be the flavour du jour. If that is not enough good news, consider the fact that we continue to be in a global supply deficit with oil inventories falling at the fastest rate on record and demand that has never been stronger. Despite all the evidence, the generalist investor has not returned to the space. We see the evidence will become increasingly undeniable as Q3 2023 and year-end earnings get announced with higher stock prices ahead as the path of least resistance."
Chris Raper, CIM, CFP ®, Co-Founder of Aspira Wealth
WORRY JOURNAL - TOP WORRIES OF MARKET PARTICIPANTS AND BUSINESS LEADERS IN 2023
Inflation (in the news in 2021-2023) - inflicted by unprecedented government aid, relief, and economic security payments to individuals and corporations, relative to the amount of products and services that the pandemic-constrained economy was able to provide.
We expect inflation to continue to decline, as supply chains are recovering from a once-in-a-lifetime shock (pandemic), supported by the tightening monetary policy (central banks increasing interest rates).
Economic slowdown/recession (in the news 2022-2023) - on assumption that central banks will not be able to quickly fix the inflation problem and/or might increase the interest rates too much.
We assume that central banks are near the end of the monetary tightening cycle. Even if they tighten too much, it might not matter in the long term.
Higher interest rates and headlines about possible recession led to a slowdown in consumer and business spending (especially discretionary spending), but it seems that the economy is quite resilient. While interest rates are now the highest they have been in 10 years, they are still lower than levels seen in the previous 30 years.
Trying to predict the timing of recessions typically doesn't end well for most investors, so we chose to focus on the longer term.
Even if a recession starts tomorrow, we think the downside is limited in the equity market, as typically the bottom of the stock market is usually 6-12 months before the official end of a recession. Equity market is a forward-looking animal, i.e., reflecting the near-term future expectations as opposed to where the economy currently is.
Debt ceiling debate/potential of a U.S. default (April-June 2023) - a recurring worry in the U.S., where the negotiations often extend into the eleventh hour before an agreement is reached.
The crisis was temporarily fixed in June 2023, i.e., discussions delayed to early 2025.
War in Ukraine (2022-2023) - has taken a terrible human toll and seems to have no end in sight.
While it is painful for people from the region and from around the world, we see that world trade and economy are gradually adapting to it, as it did in previous wars. Europe's economy continues to grow and the regional energy crisis seems to have been avoided.
Supply chain disruption (2020-2023) caused by the pandemic.
There are pockets of concerns related to supply chains (originating from the pandemic and/or recent escalation of U.S.-China trade war), but we think that the current shape of supply chains is significantly better than it was a couple of years ago.
Labour shortages, attracting and retaining talent (2020-2023).
The recent pandemic induced a major shock to the labour market. We believe the labour shortage is gradually getting resolved – hiring in the technology sector is now more rational, borders are being reopened to immigration, people are more willing and able to re-enter the labour force compared to a couple of years ago. On top of this, automation and AI are likely to continue to boost productivity.
PLAYBOOK OF OPPORTUNITIES – HOW WE SEIZE THE CURRENT OPPORTUNITIES
Broad equity market level: we intend to remain fully invested in North American equities.
The much-discussed recession might be shallow, or already priced in, or even may not happen at all.
Economic sector level – we intend to stay overweight in cyclical sectors, underweight in defensive.
Over-weight cyclical sectors – technology, industrials, materials, consumer discretionary
Equal-weight in energy and healthcare
Under-weight most defensive sectors – utilities, consumer staples, REITs
Under-weight financials
More details on the sectors are available below in the section, Sector Positioning for Dividend Value Discipline TM.
SECTOR POSITIONING FOR THE DIVIDEND VALUE DISCIPLINETM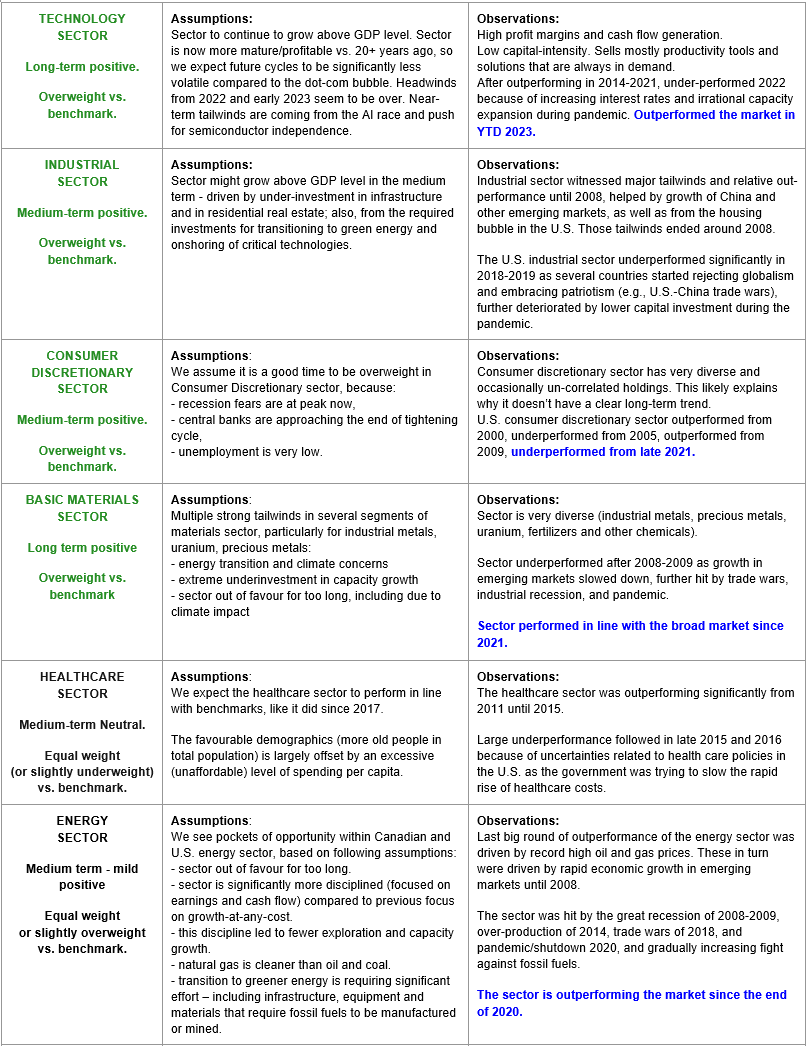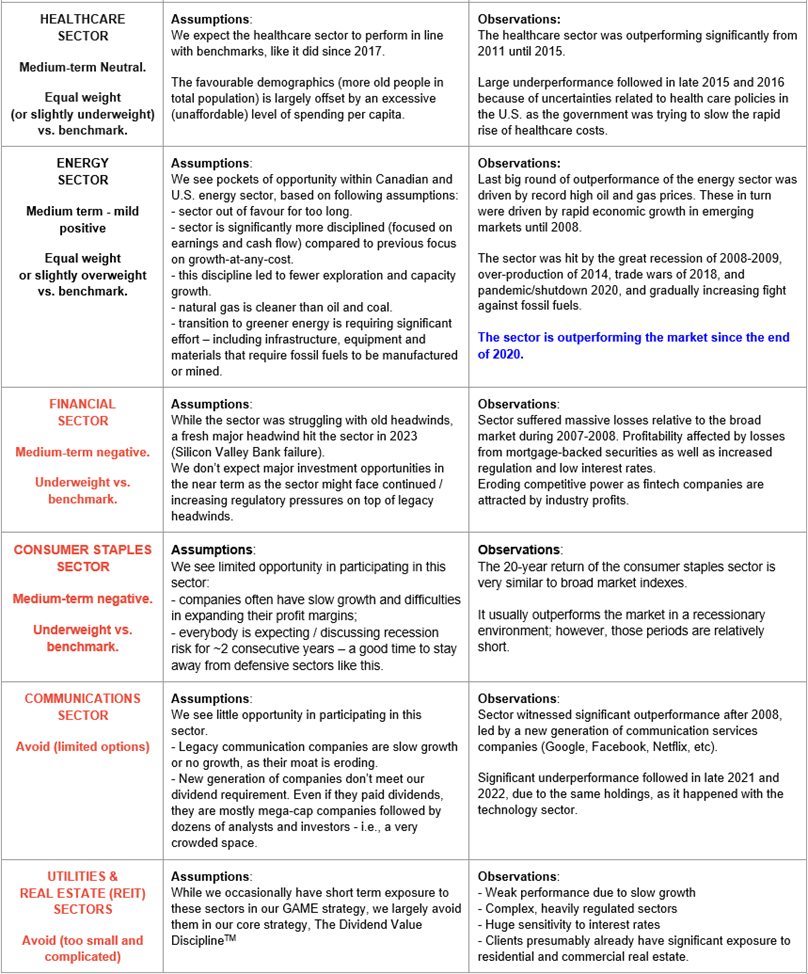 INVESTMENT PERFORMANCE
Most of our in-house investment strategies ended the years of 2021 and 2022 with significantly better results than the market averages.
For the first nine months of 2023, our flagship investment strategy, The Dividend Value Discipline™ (equities), was up about 10.5 per cent, outperforming market indices. The rest of the strategies returned between negative 7.4 per cent and positive 7.4 per cent since the start of 2023.
Source: Aspira Wealth. *These numbers are relevant only for accounts with Raymond James Ltd. (Canada).
The information contained in this report was obtained from sources believed to be reliable, however, we cannot represent that it is accurate or complete and it should not be considered personal tax advice. This report is provided as a general source of information and should not be considered personal investment advice or solicitation to buy or sell securities. The views expressed are those of the author and not necessarily those of Raymond James. We are not tax advisors and we recommend that clients seek independent advice from a professional advisor on tax-related matters. This provides links to other Internet sites for the convenience of users. Raymond James Ltd./Raymond James (USA) Ltd is not responsible for the availability or content of these external sites, nor does Raymond James Ltd/Raymond James (USA) Ltd endorse, warrant or guarantee the products, services or information described or offered at these other Internet sites. Users cannot assume that the external sites will abide by the same Privacy Policy which Raymond James Ltd/Raymond James (USA) Ltd adheres to. Raymond James Ltd., Member—Canadian Investor Protection Fund. Raymond James (USA) Ltd. (RJLU) advisors may only conduct business with residents of the states and/or jurisdictions for which they are properly registered. Raymond James (USA) Ltd. is a member of FINRA/SIPC.
Victoria

1175 Douglas Street

Suite 1000

Victoria, BC V8W 2E1
Calgary

525-8th Ave SW

Suite 4100

Calgary, AB T2P 1G1
Edmonton

10060 Jasper Avenue

Suite 2300

Howard Place, Tower 1

Edmonton, AB T5J 3R8
Website legal disclaimers
Raymond James Ltd. is an indirect wholly-owned subsidiary of Raymond James Financial, Inc.
Securities-related products and services are offered through Raymond James Ltd., member Canadian Investor Protection Fund.
Insurance products and services are offered through Raymond James Financial Planning Ltd, which is not a member Canadian Investor Protection Fund.
Raymond James Trust Services are offered by Raymond James Trust (Canada) in the provinces of British Columbia, Alberta, Saskatchewan, and Ontario, and by Raymond James Trust (Québec) Ltd. in the province of Québec. Both entities are wholly owned subsidiaries of Raymond James Ltd. Trust Services are not covered by the Canadian Investor Protection Fund. Use of the Raymond James Ltd. website is governed by the Web Use Agreement | Client Concerns.
Raymond James (USA) Ltd. All rights reserved.
Raymond James (USA) Ltd. advisors may only conduct business with residents of the states and/or jurisdictions in which they are properly registered. Investors outside the United States are subject to securities and tax regulations within their applicable jurisdictions that are not addressed on this website.
Raymond James (USA) Ltd. is a member of FINRA/SIPC.





This website may provide links to other internet sites for convenience of users. Raymond James (USA) Ltd. is not responsible for the availability of content of these websites, nor does the firm endorse, warrant or guarantee the products, services, or information described or offered by these other internet sites. Users cannot assume that these websites will abide by the same Privacy Policy that Raymond James (USA) Ltd. adheres to.
Please click on the link below to stay connected via email.
*You can withdraw your consent at any time by unsubscribing to our emails.